We at Gehrke Econ are happy to live and work in the region of Hanover and feel closely attached to the land and its people. We are known personally by countless entrepreneurs in the region. We possess extensive knowledge of the respective target markets and also work for our clients in our fields of focus nationwide.
Apart from our enterpreneurial mindset and social competence we rely on the priciple of our exclusive Winsulting® service philosophy: at Gehrke Econ experts in the fields of tax advisory, auditing, legal counselling and business consulting work closely together and swap notes in an interdisciplinary fashion.
As a result of combining the various lines of expertise, different experiences, views and perspectives within our team, you will receive targeted consulting services and quantifiable added-value from a source as close-at-hand as you need.
Come closer – we look forward to meeting you!
We have been awarded! - DATEV Label "Digital Law Firm 2022
We are pleased to have received the "digital law firm" award from DATEV eG for the fourth time in a row. This is because Gehrke Econ was already able to enjoy this award in 2019, 2020 an 2021.
With the label Digital DATEV Law Firm, DATEV eG honors innovative law firms that achieve a high rate of digitalization in their working methods. DATEV eG awards the label to law firms that stand out for their consistent digital collaboration with their clients.
The basis for this award is our participation in the DATEV Digitalization Cockpit. Our figures proved that we already work very digitally.
The degree of digitalization of our firm was measured by the key figures in the areas of accounting, taxes and wages of our digital way of working.
The criteria for the award are tightened annually, which is why law firms always have to go through this process anew. The DATEV Digital Law Firm label thus also guarantees that the corresponding law firms are up to date on the topic of digitization. That's why our goal is, of course, to receive the label again next year.
It is important to us to continue to drive digitization forward in order to make it easier for you to work together on a day-to-day basis and to get ever closer to the paperless office.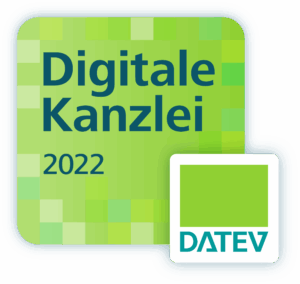 We have been awarded again! - Excellent employer 2021
Excellent! Gehrke Econ is "Excellent Employer 2021
We are once again pleased to have received the award from the Lower Saxony Saxony-Anhalt Association of Tax Consultants as an excellent employer. We also received this award in 2020. A recognition that makes us proud and encourages us.
A profound understanding of the wishes, challenges and concerns of our clients is the basis for being able to advise them individually. That is why we invest above all in our employees. After all, they are the ones who take care of our clients' needs on a daily basis. A worthwhile investment, because valued employees make for satisfied clients.
You can find out more about the "Excellent Employer" quality seal here.
Would you like to learn more about what makes Gehrke Econ an "Excellent Employer"? Click here or contact us personally!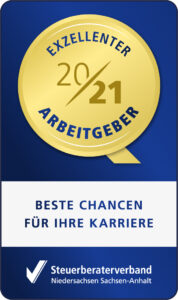 We counted our annual rings: 60 for Gehrke and 40 for Econ!
Yesterday
In January 1956 Fridwald Gehrke, together with his wife, took on the challenge of becoming self-employed tax advisors in Hanover. They opened up a joint office with a borrowed chair and a borrowed cabinet. Together with his former employees, Fridwald Gehrke founded the partnership, Gehrke-Grethe-Heuer in 1972. Over the coming years additional partners were admitted to the firm. In 1994 the Gehrke Group moved into larger offices in Hanover-Döhren. In the course of a generational succession in the 1990s, the shares in the firm were passed to a team of younger partners, some of whom, Ulrich Gehrke, Julia Chappuzeau, Carsten Klingebiel and Oliver Vogt, still lead the firm today. The Gehrke Econ Group arose from the merger with the Econ group of companies in 2010, which was founded by the auditor and tax advisor, Peter W. Plagens in 1976, and has become one of the largest advisory firms in the Hanover region.
Today
Due to the merger, 12 managing directors now lead the business affairs of the Gehrke Econ Group at locations in Hanover, Isernhagen, Lehrte and Celle. With approximately 200 employees the Group of companies generates roughly € 15 million in revenue. The two founders, Fridwald Gehrke and Peter W. Plagens, are still available to serve clients actively today. In addition to tax advisory, the service lines offered by the group include auditing, legal counsel and business consulting. This interdisciplinary network provides the clients of the Gehrke Econ Group numerous benefits. In accordance with its holistic service philosophy, WINSULTING®, the Gehrke Econ Group views itself as a partner for the forward-looking aspirations its clients.
Because it is itself a medium-sized firm, the consultants of Gehrke Econ understand the viewpoints of the group's clients. Individual consulting and a common point of departure are central criteria for finding the optimal strategy for a solution. This is based on personal contact and long-term cooperation. Mutual trust that has grown over the years, shared experiences and last, but not least, familiarity with the sector are the key to success for all advisory and consulting engagements.
With its teams of consultants, the Gehrke Econ Group builds a bridge between innovative solutions and cutting edge professional expertise that has proven itself in practice. Also in terms of the individual service lines, the knowledge of all the service lines of the Gehrke Econ Group is available to the client. If a legal issue or business matter arises in the course of handling a tax query, the corresponding service line professional is working just a few steps away, and vice versa. Client events, workshops and industry-related benchmark projects are conducted to keep clients up to speed with the latest developments.
Tomorrow
In future it will remain the goal of all 200 staff of Gehrke Econ is to ease the daily workload of our clients, offer assistance and at the same time support them in defining and reaching their business targets. In particular, numerous activities are developed in the company to ensure the quality of consulting services and continuity in the standard of service delivered to clients over the long-term, such as comprehensive internal and external training offers, modern work stations, tailored personal development concepts and family-friendly working time models.
So close, so good: our locations
Gehrke Econ is at home in the region and very close to its people, the most important industry sectors and markets. We would be happy to assist you by providing you with our expertise and a comprehensive suite of interdisciplinary services in the fields of tax advisory, auditing, legal counselling and business consulting.
Visit our headquarters in Isernhagen, in the center of Hanover, or one of our offices in Celle or Lehrte. Or arrange a meeting with us  – we look forward to meeting you!
Gehrke Econ in Isernhagen
At our headquarters in Isernhagen we offer a full suite of services in the fields of tax advisory, auditing, legal counselling and business consulting.
We support small and medium-sized enterprises in the wider region of Hanover, Celle and Lehrte by providing tax advisory services, such as financial accounting, compilation of the financial statements and drawing up tax returns. Our close proximity creates the foundation for trusting cooperation.
Gehrke Econ in Hanover
Our office in the center of Hanover is easy to reach for our clients in the city and its surrounding region. In our offices situated at Torhaus am Aegi we can offer you a full range of services in the fields of tax advisory, auditing, legal counselling and business consulting. In addition, the conference room is available to our clients and business partners for conferences and board meetings upon request.
Gehrke Econ Celle Steuerberatungsgesellschaft mbH
In Celle and at our offiice in Hermanssburg we offer small and medium-sized companies tax advisory services, such as financial accounting, payroll, financial statement compiliation and tax returns from a single source.
For more extensive business consulting services, such as restructuring, succession issues, international tax law, etc. we work closely together with our experts in the fields of tax advisory, auditing, legal counselling and business consulting.
Gehrke Econ in Celle and Hermannsburg – our service portfolio:
Bookkeeping
Financial statements and company tax returns
Tax advisory and income tax returns
 Accounting and tax advisory services for the agricultural and forestry sector
Gehrke Econ Lehrte Steuerberatungsgesellschaft mbH
Proximity fosters faith: At Lehrte and at our office in Peine we offer our clients from the wider regional catchment – Lehrte, Burgdorf, Peine, Sehnde – a full suite of tax advisory services. This includes financial accounting, payroll accounting, compilation of the financial statements, tax returns and the like.
We offer additional consulting services associated with restructuring and succession issues or international tax law in association with our specialists in the fields of tax advisory, auditing, legal counselling and business consulting.
Gehrke Econ in Lehrte und Peine – our service portfolio:
Financial accounting
Financial statements and company tax returns
Tax advisory and income tax returns